Looking for a cheap meal kit company might seem impossible since every person knows that such services require a pretty huge commitment. It could be partially true; however, since the launch of the Dinnerly meal kit company and the introduction of its affordable prices, the competitors started worrying about their standing on the market. Let's cover what hides behind such prices, their quality of products, as well as feedback on their overall servicing of clients.
Conclusion
Is Dinnerly Worth It? Dinnerly meal service is a go-choice for people who look for affordability, easy-to-prepare recipes, and quality of products. You won't find gourmet recipes; however, you will find dishes that are extremely easy to make and extremely tasty to eat. They offer boxes for two and family-sized customers' recipes. If you look for many diet preferences, including vegan, gluten-free prepared foods, Dinnerly should not be your primary choice. Still, unlike other food delivery services, Dinnerly is tastier when it comes to your pocket.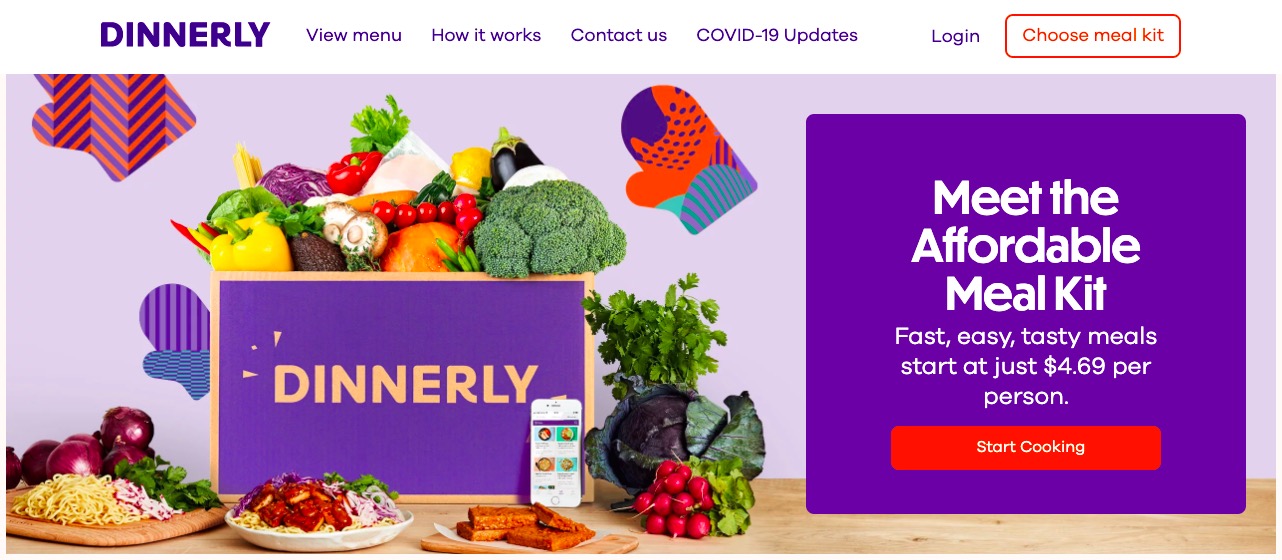 Pricing
As for the cost of Dinnerly, it is pretty ridiculous. As per their official website statement, they were created to serve the needs of those people who do not like overpaying and who love homemade recipes. Since you are busy if you order such recipes, you expect complete simplicity. Therefore, what do you think about their price? Dinnerly cost is only $4.69 per adult serving. Sounds interesting and tasty, however, do not forget about the shipping cost and variations of servings. Let's take a closer look at Dinnerly meal delivery prices.
There are two options to order – A two-person box and a family box.
Two-person box:
3 meals per week = $5.29 per portion and $40.73 in total;
4 meals per week = $4.99 per portion and $48.91 in total;
5 meals per week = $4.99 per portion and $58.89 in total;
6 meals per week = $4.89 per portion and $67.67 in total.
Family box:
3 meals per week = $4.99 per portion and $68.87 in total;
4 meals per week = $4.99 per portion and $88.83 in total;
5 meals per week = $4.89 per portion and $106.79 in total;
6 meals per week = $4.69 per portion and $121.55 in total.
Alongside these prices, the Dinnerly shipping cost is equal to $8.99 for all the orders without exclusion.
Finally, if you wonder about the billing cycle, let's answer the most popular question – when does Dinnerly charge you? Dinnerly, like other meal kit companies, has an automatic charging for their services. You will be charged each week on the day you first paid them. If you do not want to be automatically charged, you should cancel your subscription.
All in all, their prices are a real deal if you look for affordability; however, many clients claim that these prices are good only when you do not see the shipping cost. To justify such prices, Dinnerly reports that they use the same quality ingredients for their recipes, and foods but simultaneously, they add fewer ingredients per dish and do not use paper cards for each recipe. This shipping cost helps them to keep their head above the water, strange it may sound.
Types of Meal Kit Food Options
By moving to Dinnerly meals this week, it is worth saying that you should not expect many gourmet options or luxurious ingredients. This company offers simply homemade recipes that may somehow resemble the cuisine of your family. On the other side, what do you really expect from such low prices?
Let's first start with identifying whether Dinnerly meal options accommodate any dietary preferences. By overlooking their official website menu, one may find recipes that are labeled with low-carb, low-calorie, poultry, kid-friendly, vegetarian, dairy-free, spicy, healthy, one-pot meal, under 30 minutes tags. Therefore, if you look for a Dinnerly vegetarian menu, you will definitely find delicious options for you.
Frankly speaking, there are no specific recipes of Dinnerly gluten-free, however, some of the organic dishes could be found with a tag – NO ADDED GLUTEN. Therefore, you won't be hungry as well.
Now, let's talk about the Dinnerly weekly menu.
Meat options – Crispy Chicken Fingers, Burger with Baharat Ketchup and Feta-Oregano Fries, Kung Pao chicken, Balsamic honey-glazed meat.
Veggie – Caprese Ravioli, Mushroom, and Pea Risotto, Peanut noodles, Pizza with spinach, feta, and olives.
Fish – Fried shrimp basket.
As you may see, the choice is actually decent if you do not look for extra things. It would be nice if they offer more fish options; however, those who crave meat and veggie would be completely satisfied.
As for the actual healthy cooking process with Dinnerly, there are no card photos with step-by-step instructions, but you may find a guide online. Simultaneously, there is no need for any instructions since the recipes are pretty easy to make. There are no more than 7 ingredients per recipe; hence, you are most likely to mix it all and eat. Dinnerly also offers vinegar, salt, sugar, which is nice.
Quality of products
Reviews of Dinnerly products' quality are usually similar. Although the company boasts low prices, they also boast a high quality of all the ingredients. Do not think that there are any sacrifices. By making a Dinnerly review of all their prepared foods and ingredients received, they are fresh and in very good shape. Meat looks good and has a good flavor as well.
Based on customers' feedback, their recipes might seem dull or boring for some; however, again, let's not forget about the prices they involve in their standing on the market. Those who understand what they pay for do not complain about flavors or taste.
All in all, the quality of products is fair and decent. You won't come across spoiled vegetables or smelly meat or fish.
Ordering Process
What can be easier than ordering with all the meal kit companies? Yes, with Dinnerly reviews on this process, everything applies the same. You have to visit their official website, press the button – Choose the Meal, and start your ordering. You should select between a two-person box, and a family box, then serving, and indicate whether you want your box to be vegetarian. After that, you set your location by indicating the ZIP code and email. You are redirected to the delivery details, including your address, preferred time of delivery, etc. Then, payment and the actual selection of meals.
Dinnerly currently accepts Mastercard, Visa, Discover, Amex PayPal.
Packaging
Since the Dinnerly delivery area covers most of the U.S and now even Australia, they should have good packaging. What people love the most with Dinnerly delivery is that they are very efficient and do not have a lot of waste. All the packing accessories are curbside recyclable. They do not have much plastic, but the available ones you may recycle as well.
For instance, their boxes are SFI certified. SFI, in their case, means that they are practically made of paper sourced from sustainably-designated forests meeting the criteria of a safe ecosystem. Ice packs contain 98% water and 2% super absorbent polymer (SAP), which is a non-toxic but oil-based polymer. Depending on your exact location, their box liners may vary, either available as foil pouch liners or encapsulated cotton liners. If you get foil pouch liners, they are made of metalized films alongside bubbles, while other liners are made of fully biodegradable cotton.
Finally, their ingredients packaging is available with bottles and containers. They, in turn, are made of recyclable plastic #1 and #4.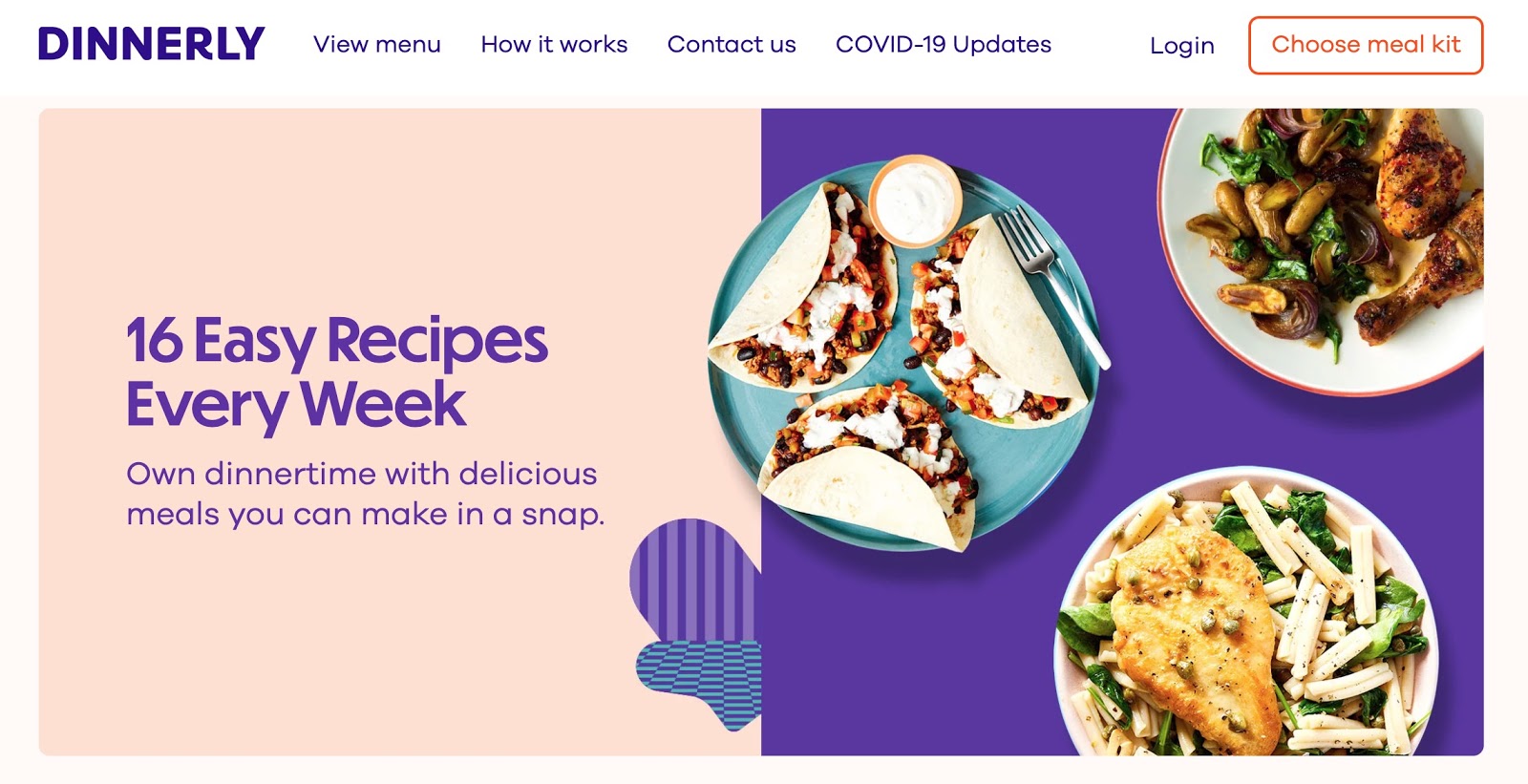 Support
Review of Dinnerly customer team support is nothing to complain about. First off, you may contact them by using the phone number or by submitting the request online. Beyond that, Dinnerly customer service has a live chat which is very convenient when you do not want to hold on the line. Secondly, the company has a good FAQ page where all the bothering questions of customers are answered. Most people claim that their representatives are very courteous and professional. They always know how to treat customers and make them happy.
Similar Services
Nowadays, there are many meal kit companies that may resemble one Dinnerly. Simultaneously, it is quite hard to find a weekly subscription service that offers such cheap prices. Nevertheless, let's cover the top 3 reviews on Dinnerly competitors at the present time.
Hello Fresh
When thinking about the best meal kit company, most people would say Hello Fresh. It is known to be the best delivery service in the US by now. This company offers delicious recipes for every preference. Their recipes are easy to prepare. As for their prices, they are one of the cheapest ones alongside Dinnerly; however, the difference in price is visible. Hello Fresh charges $7.49 per serving. What people love about Hello Fresh is its sustainability approach. They do care about it and try to focus on less food waste, a greener footprint, responsible ingredient sourcing, and smart packaging of their delivered foods. Unfortunately, there are not many dietary preferences covered with them now, similar to Dinnerly, however, vegetarians may still find something for them. Finally, they have a family plan.
BlueApron
Another similar service to Dinnerly is BlueApron which offers easy to prepare organic food and many cuisines. Unlike other meal kit companies, people know BlueApron for their offers of wines. They have wines from renowned vineyards. Alongside the recipes, you may order a wine pairing and have a romantic dinner with your partner. As for pricing with BlueApron, it is hard to say that they are very affordable since the serving starts from $9.99. However, you may customize your options and tailor recipes per your needs. As for diets, they have
carb-conscious, and vegetarian preferences only.
HomeChef
Last but not least, a representative of the meal kit industry is HomeChef, a renowned service which was launched in 2013. It offers easy to prepare delicious recipes from many cuisines that have flavors similar to homemade family recipes. The company accommodates many diets, unlike Dinnerly, and one may also save money when ordering with them. One serving starts from $6.99 only. You may easily double or skip proteins with them and customize your box per your needs and preferences.
That's pretty it. There are many more other meal services like Dinnerly, and for every taste preference. You may find the parties that fit vegetarians, Keto/Paleo followers, and vegans, however, ensure they won't make you throw money down the drain.