Fed up with Hello Fresh or Blue Apron? Most people prefer going for nation-renowned brands when it comes to meal kit companies; however, there is always a time when they become tired of the same cuisine and meal options. Today, this review will cover Martha and Marley Spoon company, which is believed to offer a taste you have never ever experienced before. Thus, have a seat, grab some coffee, and let's investigate – is Marley Spoon any good?
Conclusion
After overlooking many Martha Stewart and Marley Spoon reviews and conducting our own research of its relevance, it is worth saying that it is good. You have a choice of many recipes that will fit many dietary preferences. Simultaneously, Marley food delivery is a go-choice to Keto followers and vegan people alongside those who just want to follow a balanced diet. As for their pricing, you won't be much surprised since they are average, and no discounts are available as of now. However, Martha and Marley Spoon is a gem when it comes to high-quality premium ingredients. Therefore, if you are tired of other mainstreamed delivery options, this will be obviously the best delivery service worth your try.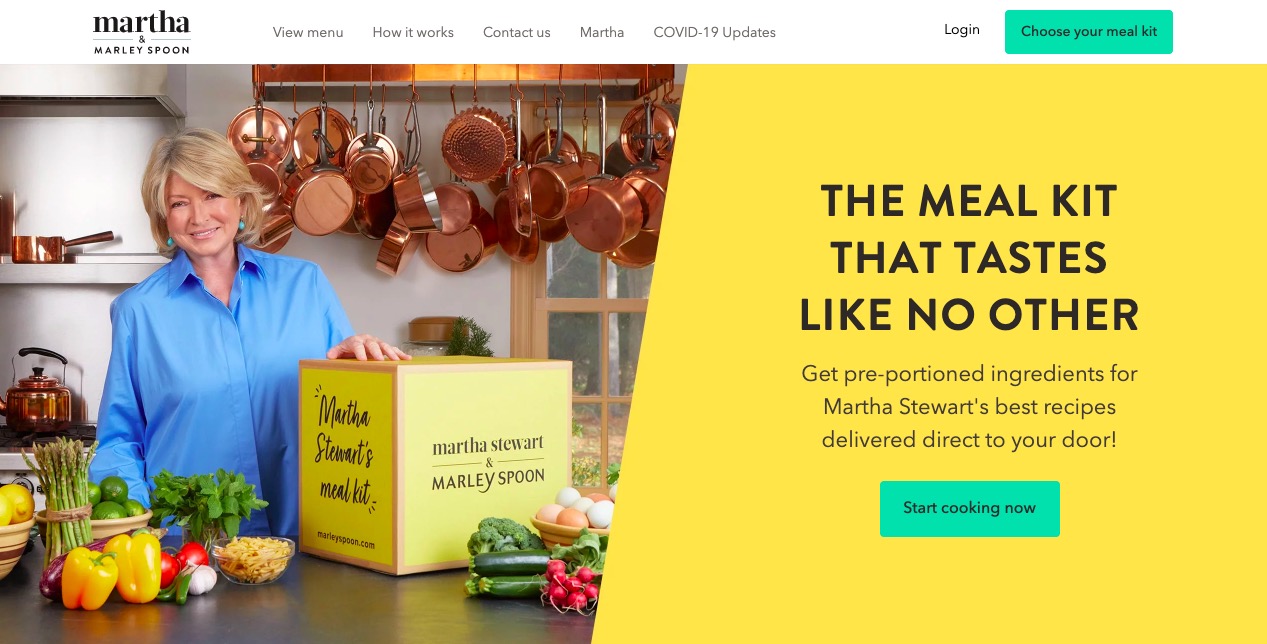 Pricing
First off, by coming across Martha and Marley Spoon weekly subscription service, you notice that they promise tastes you have never tried before. You may be easily hooked on such statements, right? The company offers sustainable eating and opts for saving your precious time for cooking. Simultaneously, they carry the mission to introduce people to affordable prices when it comes to a meal kit, however, let's be honest – their prices resemble many other food delivery services. Therefore, do not expect much savings.
Off we go! How much is Martha and Marley Spoon?
You have a choice of two plans – for 2 people and for 4 people. Looking ahead, the service fits best couples and family-sized clients, not single-person orders.
2 people plan:
2 dishes/weekly = $10.99 per serving = $53.95 in total;
3 dishes/weekly = $9.49 per serving = $65.93 in total;
4 dishes/weekly = $8.99 per serving = $80.91 in total;
5 dishes/weekly = $8.99 per serving = $98.89 in total;
6 dishes/weekly = $8.49 per serving = $110.87 in total.
Any order from this plan will come with chargeable shipping, which is $8.99.
4 people plan:
2 meals/weekly = $8.99 per portion = $80.91 in total;
3 meals/weekly = $7.99 per portion = $104.87 in total;
4 meals/weekly = $7.99 per portion = $136.83 in total;
5 meals/weekly = $7.49 per portion = $158.79 in total;
6 meals/weekly = $6.99 per portion = $176.75 in total.
The same shipping cost applies to this plan. Marley Spoon is not very friendly when it comes to free shipping.
All in all, Marley Spoon cost per week is pretty average, and compared to other weekly subscription services does not seem like something very cheap. Let's see whether these prices are worth it all.
Types of Meal Kit Food Options
Marley spoon food delivery is believed to provide premium quality ingredients for all the meal kits. The company enriches all the dishes with locally-sourced ingredients. Beyond that, their recipes are known to be designed by Martha Stewart herself. Who may find their recipes good?
First off, the service has much to offer to those people who are into balanced diets. Their weekly rotating menu has around 29 recipes, which is quite impressive since most other food delivery services limit themselves to 16-20. When ordering with Marley Spoon, you may access many options, including vegetarian, vegan, low-carb, and even Keto recipes. If you are not a gourmet, however, want to try something new next week, each plan box may be converted into a vegetarian twist at no charge. Furthermore, they have kid-friendly meat and fish options.
By overlooking other reviews Martha and Marley Spoon, clients of the service claimed to enhance their cooking experience. The service provides many perks to those who want to learn to cook. For instance, there are exclusive dessert and summer grilled recipes for any liking. What a fantastic approach to promote the company within its competitors!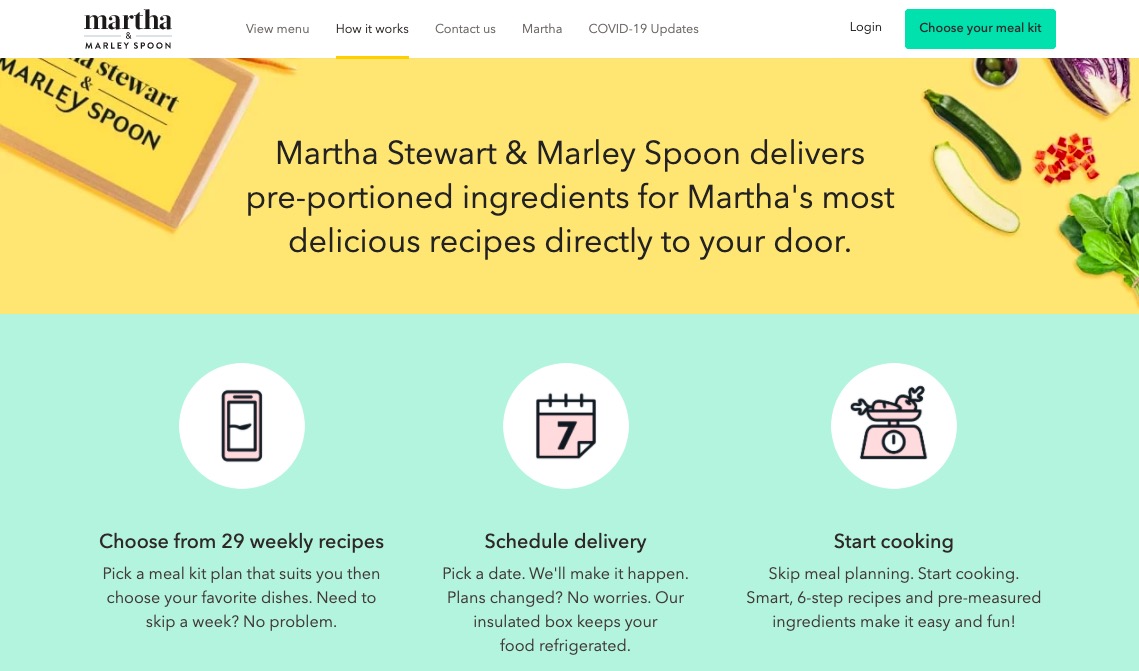 Let's start with the actual Marley Spoon meals review. All the 29 recipes are labeled with tags like Meat, Fish, Veggie, Low-calorie, Kid-friendly, Healthy, Nutritious, No Added Gluten, Dairy Free, Special and Poultry, etc. You may really choose whatever you like.
The February week recipes look the following:
Scallops with Shrimps;
Overnight Oats;
Brown Sugar Bacon with Egg Sandwich;
Chocolate Brownies;
Chickpea Bowl;
Cheese Quesadillas;
Tortilla Soup.
Frankly speaking, the choice is immense, and you will hardly find so many recipes with other meal kit companies. Therefore, one may say that Martha and Marley Spoon knows how to attract as many hungry customers as possible.
Finally, their website is user-friendly when it comes to descriptions of their meal kits. For instance, they have a page dedicated to vegetarian meals where they describe the PROS of going for veggies recipes. The same concerns Healthy meal kits where you may learn why you should stick to a balanced diet. Martha and Marley Spoon service may seem over-interested in boosting people's health; however, such going-green, sustainable eating are all trending; hence, no judgments.
Quality of Products
You are most likely to wonder what level their quality of products is. Since they have many options and claim to be premium quality service, research of other Marley Spoon reviews and feedback was necessary. Based on our and current/ex-clients of Marley Spoon service, the quality of products information is the following:
They source all the ingredients from trusted and local farmers and suppliers;
They opt for high-quality proteins in most of the recipes;
The meat they work with comes with no antibiotics;
Some ingredients are organic, including grass-fed beef and heritage pork. However, there might be exclusions, and you should learn whether the recipes you order with them may be labeled as organic food in advance;
Their dairy products in the meal kits are pasteurized;
The seafood is sourced from the US Gulf, however, some products may be shipped from other suppliers depending on the servicing areas;
Pasta comes from Italian suppliers.
All in all, the review on Martha and Marley spoon of quality of products is decent. You receive qualitative ingredients and freshness whenever you open your meal box. Based on clients' feedback, there are no complaints found that one or another product was spoiled or smelt bad. You may easily rely on their quality, and rest assured knowing NO POISONING may happen. Just be careful with your allergies and dietary restrictions.
Ordering Process
When it comes to Martha Stewart home delivery meals reviews of their ordering process, you should not expect a miracle or something extra. The ordering procedure is super simple and again resembles other services. You press the button – Choose Your Meal Kit, and get redirected to the actual choice – 2 person plan or 4 person plan. Upon the desire, you may make your box vegetarian. After that, you have to indicate your email and ZIP code and then specify your delivery address and preferred delivery date. To complete the ordering process, you have to proceed with payment and choose meals.
Martha and Marley Spoon currently accept Visa, Mastercard, Amex, and Paypal payment methods. The Marley Spoon delivery area covers most 48 states. Alongside the U.S, they service Austria, Germany, Sweden, Netherlands, etc. Therefore, it is convenient if you live outside the U.S and want to dive into a typical habit of most Americans – going for meal kits.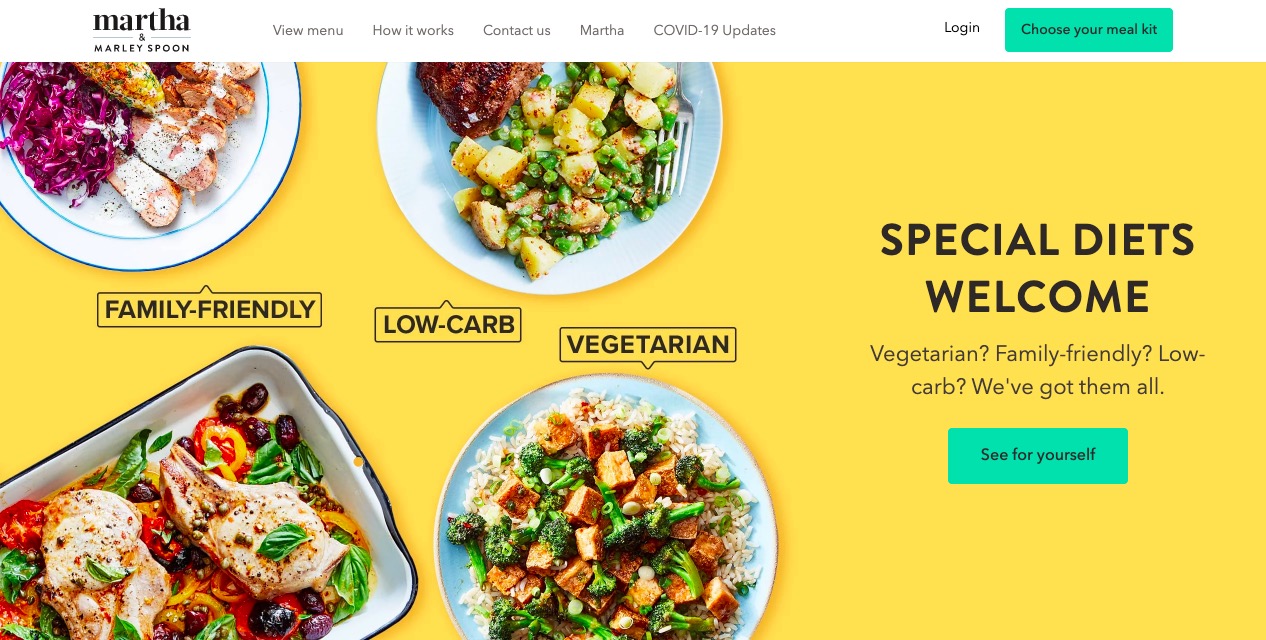 Packaging
Marley Spoon meal box delivery reviews are not possible without covering information on their packaging. Their boxes are all SFI, meaning that paper is taken only from designated forests. The same as other services, they use Ice Packs which help to keep your prepared foods fresh until they arrive straight at your door. The ice packs contain water and a super-absorbent polymer which is fully safe. The packaging will also include box liners, paper bags, and additional containers. Everything is recyclable, and you may learn with their website how to recycle each.
Based on other Martha Marley Spoon reviews, people find their boxes convenient and efficient. Not much plastic comes and seems like a burden.
Support
Marley Spoon meal kit is very good when it comes to customer support. First off, they have a live chat where you may address your inquiry. Secondly, you may always contact them through phone and email.
All in all, Martha Stewart food delivery reps are courteous and professional; through their FAQs page is quite enough if you want to learn about ingredients, billing, and account.
Similar Services
If you are not completely sure what service to choose, this Marley Spoon review also covers 3 alternatives.
Everyplate is a weekly subscription service famous for its LOW-LOW prices. They offer 16 weekly recipes that may be described as homemade delicacies. Everyplate fits clients who would like to order for 2-4 people. Simultaneously, unlike Marley Spoon, they do not cater to specific diets, hence, you are limited to meat/vegetable recipes only. The price per serving starts from $4.99.
Dinnerly is a meal kit service similar to Everyplate when it comes to low prices. They charge $4.69 per serving and do also offer homemade recipes that may fit only those who do not have certain dietary restrictions. They have a rotating menu with 16 recipes that are known to contain fewer ingredients to facilitate your cooking time.
BlueApron is a meal delivery option that charges a little bit higher compared to the two above-mentioned ones; however, it is also known as a company that delivers wines alongside meal kits. They charge approximately $8.99 per serving, and you may find some recipes that fit dietary restrictions. Their options also fit those who follow a balanced diet.
Together with Marley and Martha reviews, you may find other alternatives based on many criteria, including – best for vegan, protein-powered recipes, affordability, Keto/Paleo, etc. Nevertheless, Martha and Marley Spoon seems a good fit for every taste and paying capacity if you are not very gourmet (though their recipes may seem of restaurant-like style). Yes, it may lose if speaking of their prices, but the number of recipes and available diets is super impressive. All in all, it may easily compete with such giants as Hello Fresh or Home Chef.